In this post you´ll find information on how to get to the meeting point for the tour with Arto, from any of the major arrival points to Helsinki.
We meet the Senate Square – a very central location
The tour departs from one of the most famous locations in Helsinki – The Senate Square (Click here for Google Maps link), which is the square right in front of the Helsinki Cathedral.
I´ve listed here various ways on how to get to the meeting point for the tour with Arto, from the most common arrival locations in Helsinki:
Helsinki Public Transportation System (HSL)
They have an amazing Journey Planner available in their app and website. The routeplanner has also the ferry schedules for most of the archipelago ferries and services. With the HSL app you can also purchase single and day tickets easily to metro, commuter trains, buses, trams and the Seafortress ferry. You can download the free HSL-app for iPhone and Android here. I highly, highly recommend you download and set-up this app for yourself prior to your arrival – it makes your trip so much more easier.
Helsinki Metropolitan area is divided in to three zones (A, B and C). All of Helsinki city is covered in the zones AB. Getting to/from the airport from Helsinki requires ABC zones. If your accommodation is in anywhere central Helsinki, and you only use the airport to arrive/depart, you only need the single ABC-ticket for the airport train (valid for travel in all modes of transport for 80 minutes) and the AB-day ticket for your city exploration.
From the Airport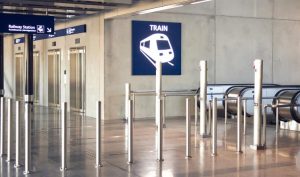 Helsinki has only one airport, called The Helsinki-Vantaa Airport. There is a regular train service that operates 20 hours per day, with a pause in their service roughly during 23.00 hours to 4.30 hours. The two local trains, I and P which run in a mirrored loop, service the airport.
Helsinki Airport's train station is located under the terminal. There is a direct elevator and escalator connection from the departures and arrivals hall to the train station.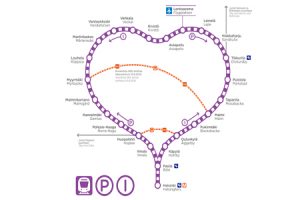 Local I and P trains operate to and from Helsinki Airport. A train ride to Helsinki City Centre takes about 30 minutes. Local train tickets can be purchased from HSL's mobile app, or from the ticket machine at the train platform. Timetables, tickes and fares for local trains and can be found on HSL.fi.
You can travel easily from Helsinki Airport to all around Finland with only one train ticket. It's convenient to change to from the local I and P trains to long distance trains at Tikkurila and Pasila train stations.
Check the airport train schedule from the airport´s schedule service here.
From the Ferry Terminals/Harbours/Ports
Helsinki has five different ferry terminals/ports where ships and ferries arrive. Terminals 1-3 on this list handle most of the regular passanger traffic between Finland, Estonia and Sweden. These different ports are allocated to different liner traffic companies and routes as follows:
Western Harbour Terminals 1&2 (Länsisatama T1&T2). Companies: Tallink Silja and Eckerö Line. Route: Helsinki-Tallinn-Helsinki.
Southern Harbour (Eteläsatama), also known as the Olympia Terminal (Olympiaterminaali). Companies: Tallink Silja (Silja Line). Route: Helsinki-Stockholm-Helsinki.
Katajanokka Terminal (Katajanokan terminaali). Companies: Viking Line. Routes: Helsinki-Tallinn-Helsinki, Helsinki-Stockholm-Helsinki.
Hernesaari Pier (Hernesaaren laituri). Companies: All large luxury cruise liners (eg. Royal caribbean cruise line etc.). Route: Baltic cruises. (Note: no public transportation stop available nearby here. Taxi or other transportation recommended).
Hansa Terminal (Vuosaaren satama). Companies: Finnlines, Eckerö Lines, Tallink. Route: Helsinki-Muuga-Helsinki, Helsinki-Travemünde-Helsinki. (Note: no public transportation stop available nearby here. Taxi or other transportation recommended).
From the Central Railway Station
There is a tram n:o 7 that leaves from the from of the station (towards Pasila as) that brings you directly to the Senate Square (you´ll see and hear SENAATINTORI/SENATS TORGET in the tram, it´s the 3rd stop from the railway station).